I'm proud to say that somebody reads this blog. More to the point, somebody reads this blog and has decided it's worthy of an award. Every once in awhile, some other blogger out there has one too many and thinks I should get an award, but hey, I'll take what I can get.

Today's inebriated tasteful award-awarding blogger is Lim Leng Hiong of Fresh Brainz 新鲜脑汁, who has given Hyphoid Logic the prestigious "E for Excellent" award, which shall henceforth be proudly displayed in the sidebar. As part of the deal, I am to name ten blogs that I think also deserve the award. In keeping with today's momentous events in Sark, I'm going to do it in a fittingly Medieval manner. Thus, all of the bloggers below are hereby named Knights of the Hyphoid Logic Realm, forsooth.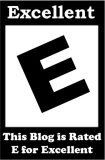 Forsooth, I have named but nine blogs. There should be one more, nay? Ah, but the rest careth not of these awards. They shall be called as Sir Very Big Blogs That Careth Not What Is Said Upon Hyphoid Logic. Thou already readest them, and so no plugs do they need from me. Eth.
And now, back to your regularly-scheduled, not-nearly-so-annoying use of uncontrived modern English.